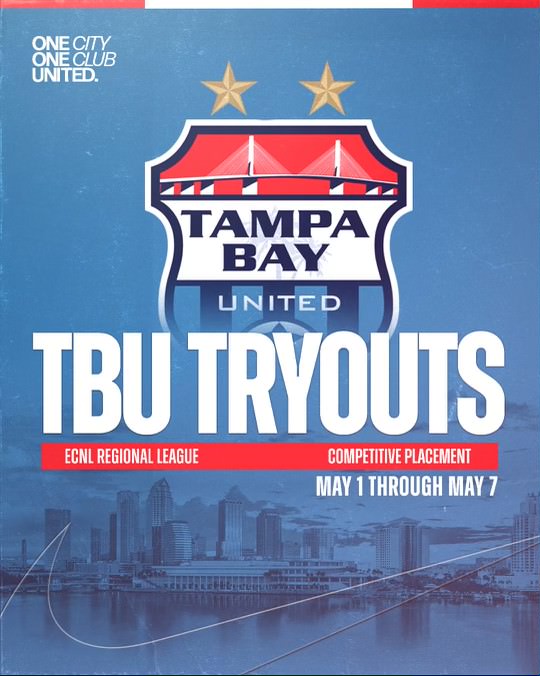 Join the Club! Competitive Tryouts Begin Soon
Try out for the Tampa Bay United Competitive program, and you will join a team of committed athletes and coaches striving to develop world-class athletes. We are the only youth soccer club in Tampa Bay to offer access to all levels of competitive play, giving boys and girls a comprehensive developmental path. 
As a player, you will be evaluated at every step of your growth path with opportunities to advance into leagues that fit your abilities and mindset. We believe that competition and team play encourage the development of not just better athletes but more rounded human beings. The learnings on the field, like respect, handling defeats, resilience, dedication, and being accountable to your teammates, translate into making our youth better prepared as adults.  
With U11 to U19 teams competing at the local, state, regional, and national levels, our soccer club has experienced tremendous success leading its competitive athletes to other levels of competition like collegiate programs, semi-professional, national team opportunities, and professional teams. Every year, TBU players sign to an average of 30 colleges to continue their soccer careers.
Our full-time coaches have the highest level of licensing and are constantly pursuing higher learning to better their careers. In addition, TBU coaches have a broad network of college scouts in the Ivys/D1/D2/D3 levels and advocate for their athletes to help continue their careers. 
Tryouts for our U11- U19 Competitive program are happening May 1st – May 7th. The typical competitive season will run from September through May, and all our facilities are utilized for practices and games. Practice times and locations are determined once the team is confirmed. Click the 'Tryouts' button for more information and to register. Players must pre-register to be evaluated. If you have a younger child, they can sign-up for the Junior Academy evaluations.