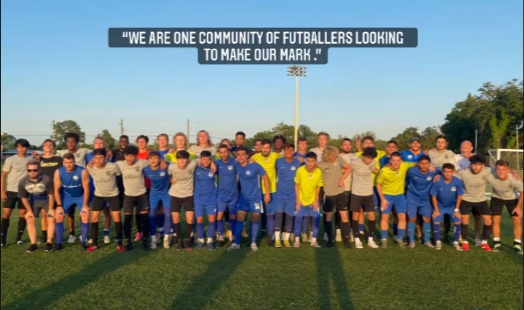 TBU and St. Pete Aztecs Join Forces to Expand Competitive Landscape
The Saint Petersburg Aztecs and Tampa Bay United Soccer Club (TBU) announced that the two organizations have formed a strategic alliance.
This alliance is a culmination of all the hard work and synergies established over the past two years. The two club's leadership teams, led by Anthony Latronica (TBU) and Sean Hampsey (Aztecs), have worked together on implementing best practices, establishing player pool movement, and increasing match play opportunities at the pre-professional levels, through the USL League 2 and UPSL platforms.
The Aztecs' professional development squad has remained agnostic in relation to local youth clubs over the years to unify higher-level development opportunities across the Tampa Bay area. However, "It has become evident that the vision of the management and technical staff at TBU, as well as their grassroots bottom-up approach to youth player development, is in direct alignment with our values and mission," said Aztecs General Manager, Shane Burroughs.
"It is no secret that TBU offers players a unique pathway of development and advancement from its ECNL and MLS Next platforms to their USL League 2 squad." By adding an additional men's pre-professional development team, that offers year-round programming and collegiate and professional exposure, TBU truly has formed a complete and holistic pathway to pro.
An alliance between the Aztecs and TBU is an operating concept that provides additional playing opportunities for TBU athletes ages 16+. This also provides a graduate program for TBU athletes who have aged out of the youth club but are still looking for high-level development exposure opportunities throughout the calendar year. The increased player pool and game schedule will allow for fluid mobility between the ECNL, MLS Next, USL League Two, and UPSL squads.
It feels great to formalize and announce to the community what I know to be a thriving working relationship amongst more great soccer people in the Tampa Bay community. The opportunity to offer UPSL as an option to our current and former TBU players fills a specific void in our player development ecosystem and adds to our year-round programming for players of all ages. We are thankful for the Aztec family accepting us with a growth mindset and open arms.
"We are very excited to work alongside the St. Pete Aztecs as we continue our efforts both on and off the soccer field to provide the best opportunities for the players and families at TBU," said Brian Johnson, Boys Technical Director and USL League 2 head coach (TBU). This partnership has already seen positive examples with several key Aztecs players being rostered with the TBU USL League 2 team this past season.
As we build from last year's success on the field, we were thrilled and humbled to receive the 2021 New Franchise of the Year Award at the most recent USL Annual General Meeting. The USL selected the winner from more than 30 new franchises throughout the country who came into the league this past season. As with everything we do for the families at TBU, we will continue to provide the best platforms for the players.
We are certain this opportunity to partner with a great organization in the St Pete Aztecs will continue to provide success both on and off the field for years to come. The short-term successes only foreshadow the long-term opportunities in the years to come.