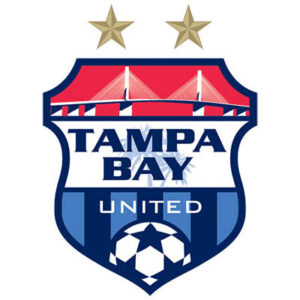 USL Academy Program
Developing the Stars of Tomorrow, Today: Tampa Bay United USL Academy
The USL Academy is an elite youth platform that provides pre-professional clubs with a supplemental player pathway and is one of the most recently additions of player programming from the United Soccer League (USL), Clubs that currently have stake in the USL Championship, USL League One and USL League Two are able to now develop a more clearly defined path for the top youth prospects in their area in hopes of them reaching the professional level. The USL Academy's main emphasis is to improve the local quality of programming and player pools, while establishing a profound sense of community pride that players, staff and supporters alike can rally behind.
USL ACADEMY TRYOUTS
| | | | | | |
| --- | --- | --- | --- | --- | --- |
| AGE GROUP: | BIRTH YEAR: | DATE: | TIME:  | LOCATION:  | FIELD: |
| **U13 Girls | 2010 | February 26 | 2:30–3:45 PM | Ed Radice | Field 3/4 |
| **U15 Girls | 2008 | February 26 | 3:45–5:00 PM | Ed Radice | Field 1/2 |
** – indicates age groups that will be playing in the 2023 USL Girls Academy Cup, but these tryouts are open to girls with birth years of 2008, 2009, 2010, 2011 and 2012. Although these tryouts are for girls, the event will feature boy's and girl's brackets across all ages.
Register For TRYOUTS
USL ACADEMY OBJECTIVES
The league also ensures a top-tier level of competition, as all league-approved USL Academy programs are required to meet a set of minimum standards across a series of categories that aims to pursue the following key goals:
Build Pathways:

Establish as many youth to pro player development pathways as possible, linking elite youth organizations with USL Senior Teams in Championship, League One, & League Two.

To learn more about the USL Pathways please click here.
Produce Players:

Increase the number and quality of locally produced talents for USL Senior Teams, while striving to develop world-class players able to compete at the highest level.

To learn more about the USL promotion of youth-to-pro players please

click here.
Improve Quality:

Improve the standard of long-term player development programs across the United States, positively impacting every aspect of those environments & pathways.

To learn more about USL's commitment to improving quality of the game please click here.
USL ACADEMY CONTRACTS
As the modern athlete continues to defy standards of capability, you're beginning to see more and more student-athletes that are ready to test themselves by competing against professionals, especially on the men's side of the game. Up until recently, those players were limited in their ability to do out of fear of losing their collegiate eligibility – the USL Academy provides a solution for this. USL Academy contracts are structured to directly addresses this issue.
USL Academy contracts allow Academy products at USL clubs to sign, train and compete in matches with professional senior teams without affecting their eligibility to play college soccer. They also allow senior team staff to evaluate the top talent in their academies on a more frequent basis and in a professional environment, which adds another step in the pathway to professional soccer.
To learn more about how players have chose to sign USL Academy contracts to accelerate their development, please click here.
USL ACADEMY CUP
The annual USL Academy Cup is an elite tournament that brings teams to Tampa, Florida from across the country to compete against unique teams they would not normally play. USL Academy Cup emphasizes the importance of on the field and off the field development with multiple panels throughout the weekend, scouts watching in-person and virtually, additional activations in the Player Village, and development opportunities for coaches and referees.
The Beginning:

The inaugural national USL Academy Cup took place in May 2021 and featured 76 teams representing clubs from all levels of American soccer.
There were three different age groups, U13 Boys and U17 Boys and Girls, that focused on the developmental game for the athletes.
Continued Success:

Building on that success, the 2022 USL Academy Cup added a U15 Boys group and swapped the U17 groups for U19 groups, allowing all players who compete in USL Academy League an opportunity to play at USL Academy Cup.
Tampa Bay United were crowned USL Academy Cup Champions.
USL ACADEMY LEAGUE
USL Academy works diligently with each club to accelerate its strategic plans in the youth development space, with the ultimate goal of establishing academies that are associated with USL clubs across the country. The USL Academy League is an additional competitive platform that provides elite youth talent from across the USL landscape an additional opportunity to compete at a high level. The USL Academy League establishes a high-level pre-professional training environment, with a direct connection to the local USL senior team. It provides meaningful games to aid in those players' development and to provide all clubs an opportunity to compete amongst each other in regionalized competition.
Tampa Bay United in the USL Academy League:

The 2022 Academy League consists of (3) 3-month cycles and the USL Academy League Finals in November, together mirroring the length of the professional season to allow for young talents to train and play at the highest level.
Tampa Bay United U19 were crowned the first-ever USL Academy League National Champions in 2022.