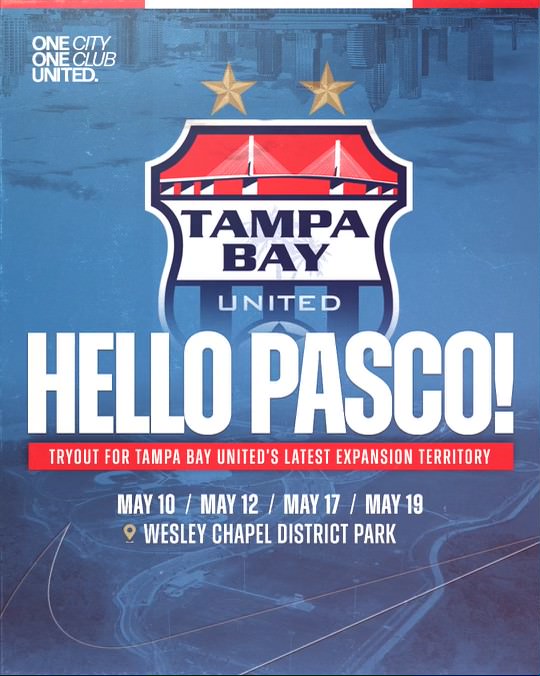 Tampa Bay United Announces Pasco County Expansion
Tampa Bay United Soccer Club (TBU) is excited to announce its expansion plans for Pasco County. As part of a partnership initiative between TBU, Sporting Wesley Chapel, and Pasco County Parks, Recreation, & Natural Resources, TBU will be offering competitive youth soccer programming to boys ages 13-19. The competitive programming will give Pasco County families more choices in youth soccer programming and offer expert soccer training to develop individual technical skills and a deeper understanding of team strategies.
"We are committed to providing our competitive athletes with an environment that is positive, fun, and encourages the holistic development of confident people. Expanding into Pasco County, Florida's Sports Coast, is an opportunity to provide more options for families, more technical development pathways for players, and access to competition that never existed before. We will place these players and teams at the appropriate competition level for their development whether it's in a national, regional, or local league," says TBU Executive Director Anthony Latronica.
Adding, "Wesley Chapel based teams will compete at the NPL, FCL League 2, FCL League 3, CDL or USA levels, while from an individual development perspective, players will have access to all the top platforms in the country; MLS Next, ECNL, ECNLR, and USL Academy League. It is truly the complete pyramid of opportunity for players brought to the Wesley Chapel local soccer community,"
TBU operates one of the region's largest and most successful youth soccer programs and has pre-professional teams for both men and women. The pre-professional teams compete in the USL League Two and USL W League which give youth athletes incredible competitive development opportunities that begin at the youth level and continue their pathway to professional soccer.
The club is well regarded for helping its athletes continue to play at the collegiate level. TBU has placed over 340 student-athletes in college over the past 10 years and more specifically is placing 48 in this year's 2022 graduating class. An equal split, 24 boys, 24 girls and counting.
"We are excited to see the sport grow and have even more traffic within our park," says Park Site Supervisor Deanna Baltimore. "TBU's broad programming and clear path of development makes this partnership a game-changer for our Pasco County youth who are interested in soccer. This is just the beginning of a long-term exciting project that will provide for Pasco families and to the game of soccer."
Spearheading this initiative is experienced soccer professional Nick Sakiewicz who will be the program director and head coach of multiple boys' teams. His soccer pedigree as well as his current involvement as an assistant coach at St. Leo Men's soccer program will immediately and positively impact all the families in Wesley Chapel.
"Over the past years, I have recruited many players from Tampa Bay United to NCAA D1 & D2 programs and have admired the development of talent the club has produced. I am very grateful to be added to this already great staff where I can help to develop the program in Wesley Chapel," says TBU Wesley Chapel Director Nick Sakiewicz.
"We are excited to further our partnership with TBU. Their extensive programming, available player pathways, and expert coaching staff are all great assets to Sporting Wesley Chapel's continued mission to provide a place where all players of all ages, backgrounds, and abilities can reach new levels. While Sporting Wesley Chapel continues its path towards helping each individual player, TBU's extensive network of leagues and coaches provides player pathways that were previously not available in Wesley Chapel. The Pasco County soccer community is ready for change and the TBU-Sporting Wesley Chapel partnership is poised to provide it," says Sporting Wesley Chapel Sporting Director David McFeron.
Sporting Wesley Chapel will host recreational programming for kids ages 9-17, Academy-style training programs from ages 6-12, and girl's competitive teams for U15, U17, and U18/19 at the Wesley Chapel District Park. At that same location, TBU will field competitive boy's teams that will compete in the CDL and USA local competitive leagues, ages U13-U19. Families interested in try-outs and meeting the TBU coaches can attend try-outs on May 10 and 12, May 17 and 19, and open play on May 24 and May 26.
Register for tryouts for TBU boys' teams based out of Wesley Chapel District Park https://system.gotsport.com/programs/3G9341217?reg_role=player and more information on Sporting Wesley Chapel, visit sportingwesleychapel.com.
TBU is dedicated to the development of youth soccer players through the adult levels. The club offers opportunities to participate and advance as youth recreational and competitive players, adult players, and pre-professional players with the goal to impart knowledge while creating an environment that cultivates respect, inspires a lifelong passion for the game, and gives each player opportunities to reach their full potential.