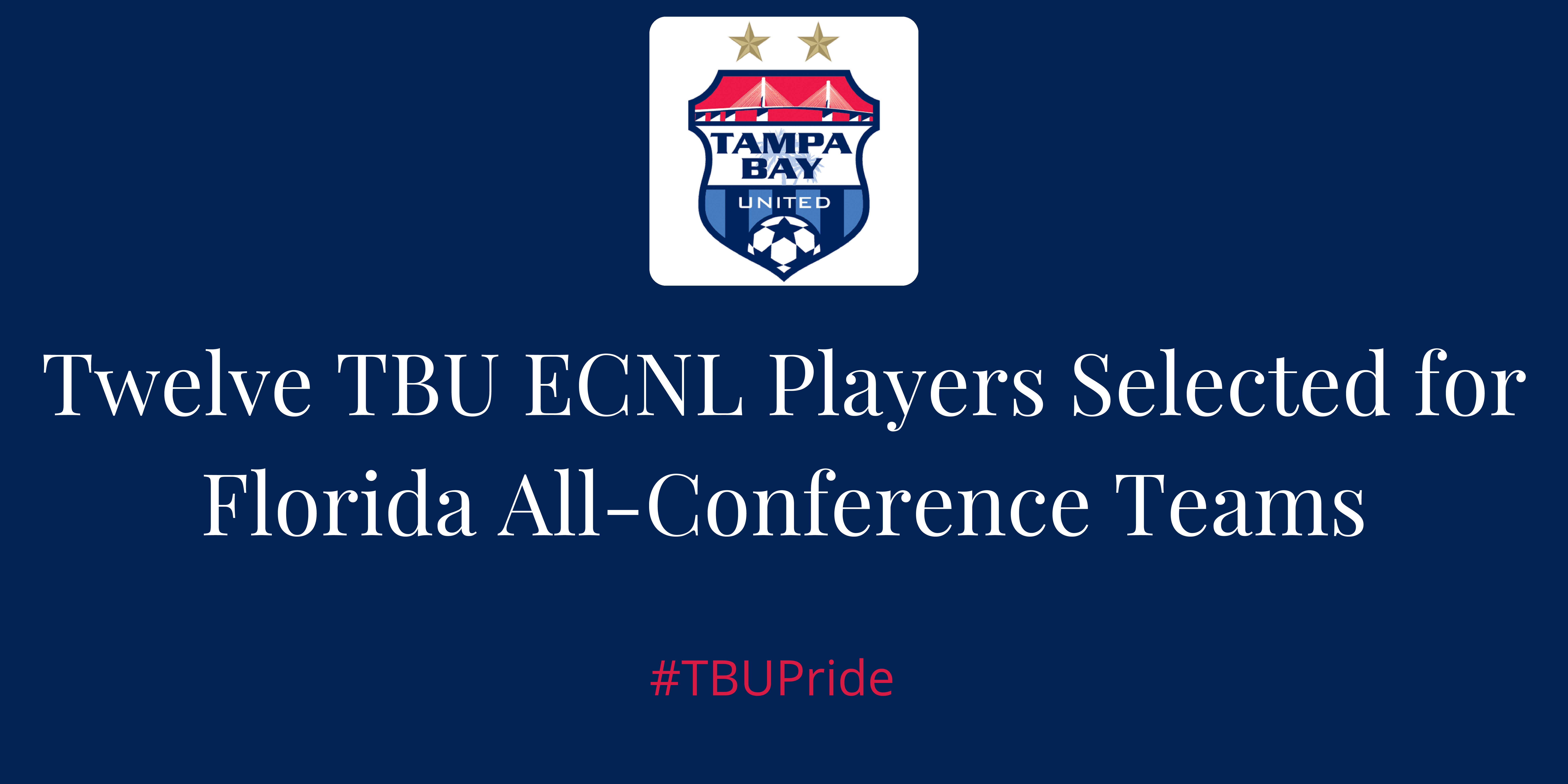 Tampa Bay United Dominate the All-Conference Team Rosters
Twelve Club Players Selected for the Florida All-Conference Teams
For Immediate Release
TAMPA, FL (September 16, 2021) – The Tampa Bay United Soccer Club (TBU) is excited to announce that twelve of their athletes in the Elite Clubs National League have been selected for the Florida All-Conference soccer teams. The Florida All-Conference teams recognize stand-out athletes who are at the top for their competitive soccer athletic abilities in both the boys and girls leagues. Players are chosen from throughout the SoutheastECNL Banner Conference of the ECNL girls and boys league. In Tampa Bay, TBU had the most athletes chosen for these highly selective teams. No other club had as many athletes in both the boys and girls teams.
"Our coaches are the best in the state and we have so much talent to work with. The TBU players selected deserve the recognition- they work hard and are dedicated to the principles of improving and becoming top athletes," says Anthony Latronica, Sporting Director, TBU.
The list of TBU athletes from their Boys ECNL program are: Matias Gonzalez, Alex Bossio, Ray McKinzy, Baylen Young, and Paul Surkov for the first team of the Florida All-Conference; Chase Lasasso, Hunter Lindsey, and Tristan Ruiz are selected as members of the second team. 
The list of TBU athletes from their Girls ECNL program are: Jada Silvest, Erica Roberts, Christina Tsaousis, Kallie McKinney, and Amanda Egan for the first team of the Florida All-Conference
These players were selected through a recommendation and voting process that involved representatives from every member club in each ECNL Boys and Girls conference. These athletes will also be eligible for selection to the ECNL All-American teams, to be announced later this year. 
The ECNL program allows for innovative, player-centered programming and to enhance the overall experience by creating a better, more enjoyable, and more successful player, coach, and club development model. ECNL includes both regular-season conference games and national events where players will compete against cross-conference opponents. TBU has 12 teams that compete in the ECNL league, ages U13-U19 boys and girls.
 ###
About Tampa Bay United Soccer Club (TBU)
The Tampa Bay United Soccer Club is one of the top soccer clubs in the state of Florida. Dedicated to the development of the sport of soccer for the youth player, the organization offers opportunities to participate and advance in the game for recreational and competitive players. In partnership with U.S. Soccer, the TBU Development Academy recognizes elite soccer athletes, pairing them with expert coaches to create the next generation of National Team players. TBU is also a member of the ECNL, a league that enhances the development of the female and male soccer athletes, and has four soccer campuses throughout Tampa Bay (Waters Avenue, Ed Radice, and Monroe in South Tampa). For more information, please visit https://tbusc.com/.
Additional Press Contact:
Anthony Latronica
Sporting Director, Tampa Bay United
alatronica@tbusc.com