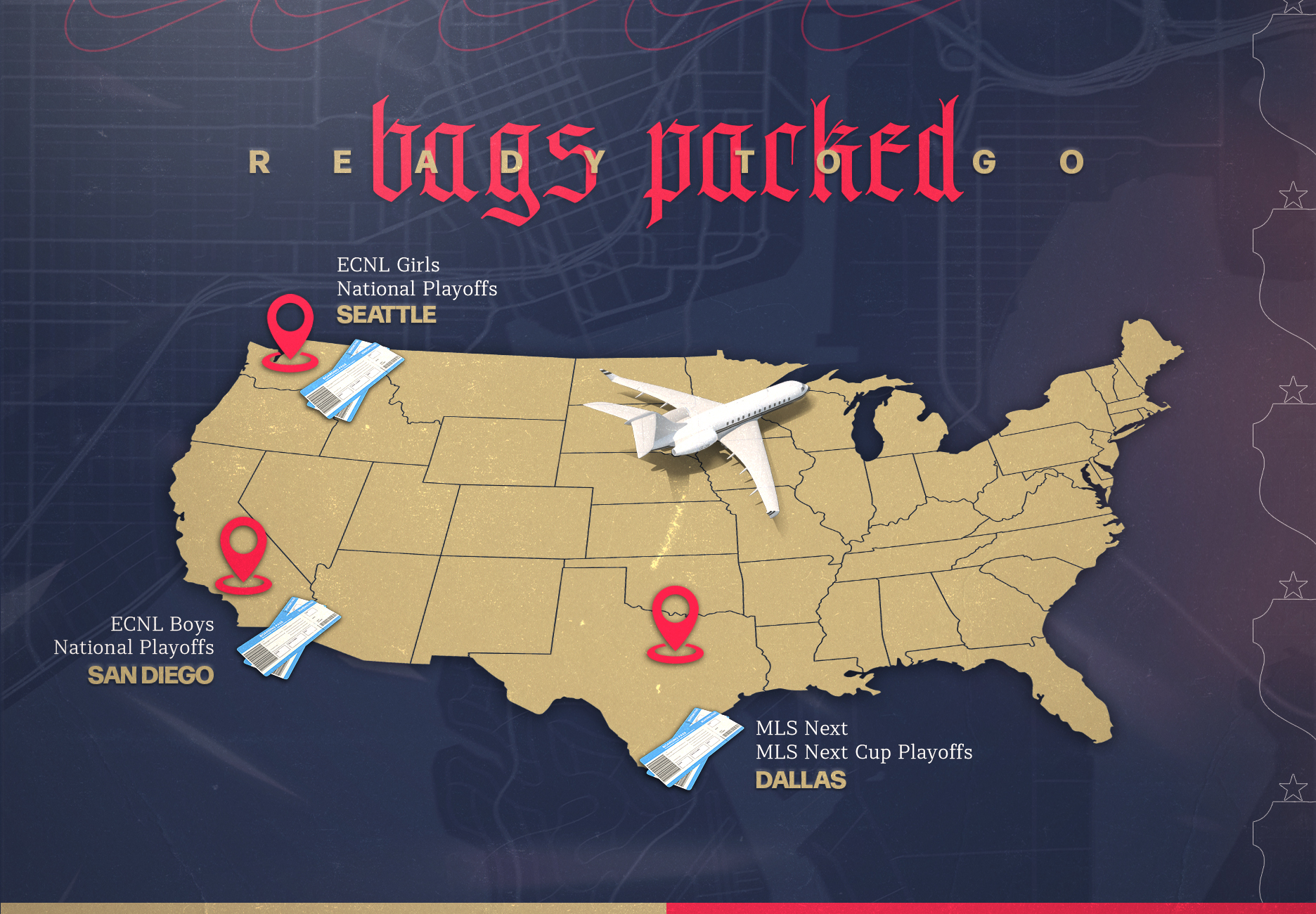 Quest for a Third Star
Playoff season is here, and we are thrilled to announce that our soccer club is sending seven teams to compete in national competitions. For our athletes and coaches, these competitions are the culmination of months of hard work, determination, learning, and grit. While all seven teams had phenomenal seasons, our U19 MLS Next and U19 ECNL boys finished their seasons undefeated. Rising to the top of their competitive leagues and divisions is a remarkable accomplishment and demonstrates the depth of our TBU player pool. Each of these athletes and the coaches who challenged them to be successful should be very proud.
Our U16 and U17 ECNL girls are headed to Seattle, Washington, to represent our club at the ECNL Girls National Playoffs from June 22nd to June 29th. Last year, this U17 ECNL Girls team was the national semi-finalist at the U16 age group.
During the same time frame, four of our ECNL Boys teams (U14, U16, U17, and U18/19) will be traveling to San Diego, California, from June 25th to July 1st to participate in the ECNL Boys National Playoffs. 
Our U19 MLS Next Boys will also be experiencing the adrenaline rush of the playoff season. They head to Dallas, Texas, from June 25th to July 3rd to participate in the 2022 MLS Next Cup. This undefeated team will be competing against 32 teams across the MLS Academy and MLS Next Elite academy that qualified based on their regular-season performance. 
"Qualifying for nationals and competing for a national championship is a memory that these athletes and families will have for life," says TBU Executive Director Anthony Latronica. "It is a dream to compete and represent your club at the highest levels, and these teams have shown they are driven to be the best. They have worked extremely hard and have earned their ticket west. We are so proud and thankful for the support of our TBU families and the dedicated coaches who help make this possible."
TBU is proud of our strong history in the national competitions. TBU has won two national championships and competed in five championship matches total, securing three National runner-up finishes. Most recently, last summer our U16 MLS Next team made it to the 2021 MLS Next National Championship game and finished runner up and our U16 ECNL Girls landed in the final four at the 2021 ECNL National Championships in Richmond, Virginia.
To have so many teams qualifying for these championships and wearing the TBU patch at national competitions is an honor. We encourage our TBU families to tune in and stay connected on all our social media platforms for updates. Enjoy the competition!