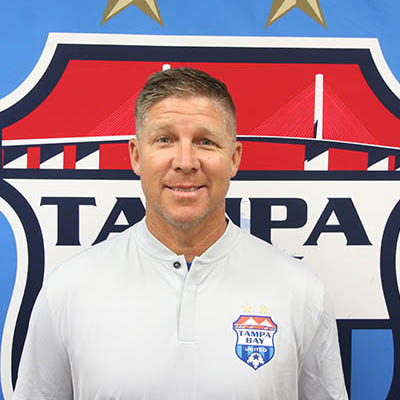 Get to Know Our Boys Technical Director- Brian Johnson Soccer America Interview
Tampa Bay United Soccer Club's Director of Technical Development Brian Johnson sat down with SoccerAmerica's Ario Moore-Bloom to discuss his work with TBU and this playing career. The following is an edited and condensed version of the interview published to Soccer America.
Johnson, who played for the USA at the 1993 U-20 World Cup, stayed in California and went on to play at Fresno State University under John Bluem, taking a year off in 1995 to train with the U.S. Olympic team. He was drafted seventh overall in the 1997 MLS college draft by the Kansas City Wizards and won an MLS Cup with them in 2000. He finished his career in the USL A-League with the Pittsburgh Riverhounds. In 2003, he became Bluem's assistant with Ohio State's men's team, and his coaching career began.
SOCCER AMERICA: How did you originally get involved in soccer?
"I'm not sure what led me to soccer, but I played for Livermore Soccer Club. Thirty-five years ago, each little city had their own club. That's where you played, that's where you stayed until you finished your U19s. We had a lot of really good players in this little town I grew up in. We kind of all thrived off of one another and that's how I started playing. I remember the first team I played on was called the Spidermites. That was my first real memory of being on a soccer team and loving it — I was all in and focused."
SA: Training with the U.S. Olympic team in 1995?
"I didn't actually make that team. I was cut from the team before because there was a coaching change. Bruce Arena got the job [replacing Timo Liekoski] and he changed some things around and brought in some guys who he was more familiar with. But I was part of that group that trained down in Chula Vista full-time before that. I was a freshman at Fresno State, took a year off from school and trained full time; it was excellent and a ton of fun. It was something I'll never forget. We had a group of guys I was training with for three or four years [in the youth national team program]."
SA: For other technical directors out there, do you have any secrets or common practices that make for a better run club?
"You need to have a philosophy and a structure. I know these are cliche words, but you have to create a culture that is going to set a tone and standards for what you want your staff and players to look like. As technical director, you have oversight over the entire club — if you don't have that structure in place and the right personnel to be leading that structure, you're going to swim in the water a little bit. You're not going to really advance what you want to teach and what you want to provide for the players. For me, it's how you teach it and how you share that information with all the players. I know for us we're very much a teaching club. We do a lot of teaching at trainings but we also set the players up to allow them to make decisions. Everything can't just be coaching, coaching, coaching all the time. You have to empower the players to be able to make the decisions as well. There are days when there's a lot of teaching and there's days where it's discovery day. It all starts with the structure and the accountability — that's so important."
SA: Top playing career memories?
"At the earliest age it's probably the U-20 World Cup. That was a really cool moment. When soccer wasn't that widespread yet — we didn't have TVs to watch or to know what was going on, so that was really cool. Getting drafted by MLS in the early stages of the league; to get my first start, to get my first goal. Those were always things I will never forget. Winning an MLS Cup with Kansas City was amazing. You realize how hard it is to get to those moments and to be able to share that with Bob and all the teammates — it was really amazing."
SA: How did you get your start in coaching?
"I always loved soccer and loved teaching. I was always going to become a high school or elementary school teacher or a teacher of some kind moving forward. To be honest, the game always made sense to me. Physically, there was probably a time where I couldn't quite keep up or the game had passed me or those types of things — but I always saw the game clearly with my mind. I always wanted to give back to all the players the same thing the coaches gave me. I knew I was going to be involved in some way."
SA: Updates on Tampa Bay United academy? MLS Next showcase?
"I started at Tampa Bay United two years ago, almost to the date. At that time, we had just been awarded a  DA spot for our U-17 team. A year later, we were given the opportunity to have a U-19 team, so we became a full-fledged U-13-U-19 club. That was an amazing opportunity for this club. The club has really prospered — I'm saying this humbly speaking. I'm a very humble person so humbly speaking, the club has really prospered."
"I feel like the coaching staff is doing a really great job. For example, last year, our U-15, U-16, U-17 and U-19 teams all made the playoffs for MLS Next. We're one of the only clubs in the country to do that. That was a great accomplishment for just a kind of a consistency for us — that we're making a step in the right direction."
"I feel like we're doing a good job helping our kids develop and sending them off to college. We have quite a few players who are going to really big Division I schools, so that's a positive. Hayden Morgan is going to UNC Chapel Hill. Julio Plata goes to USF here locally in Tampa. We got a few players committed to going to Wake Forest as well. I feel like some coaches and schools are recognizing some of the things we're doing here. We had a USL II team this past summer that has connected with Tampa Bay United. Last year was our first year and we made it into the playoffs as a first-year team."
"We had one of the youngest teams in the country, our average age was 19 years of age in getting them experience in the USL II. We'll continue to do that, we want to provide opportunities for our youth players and put them in a position where they're uncomfortable and help them to raise their game and for them to see what it's like to play at the next level."