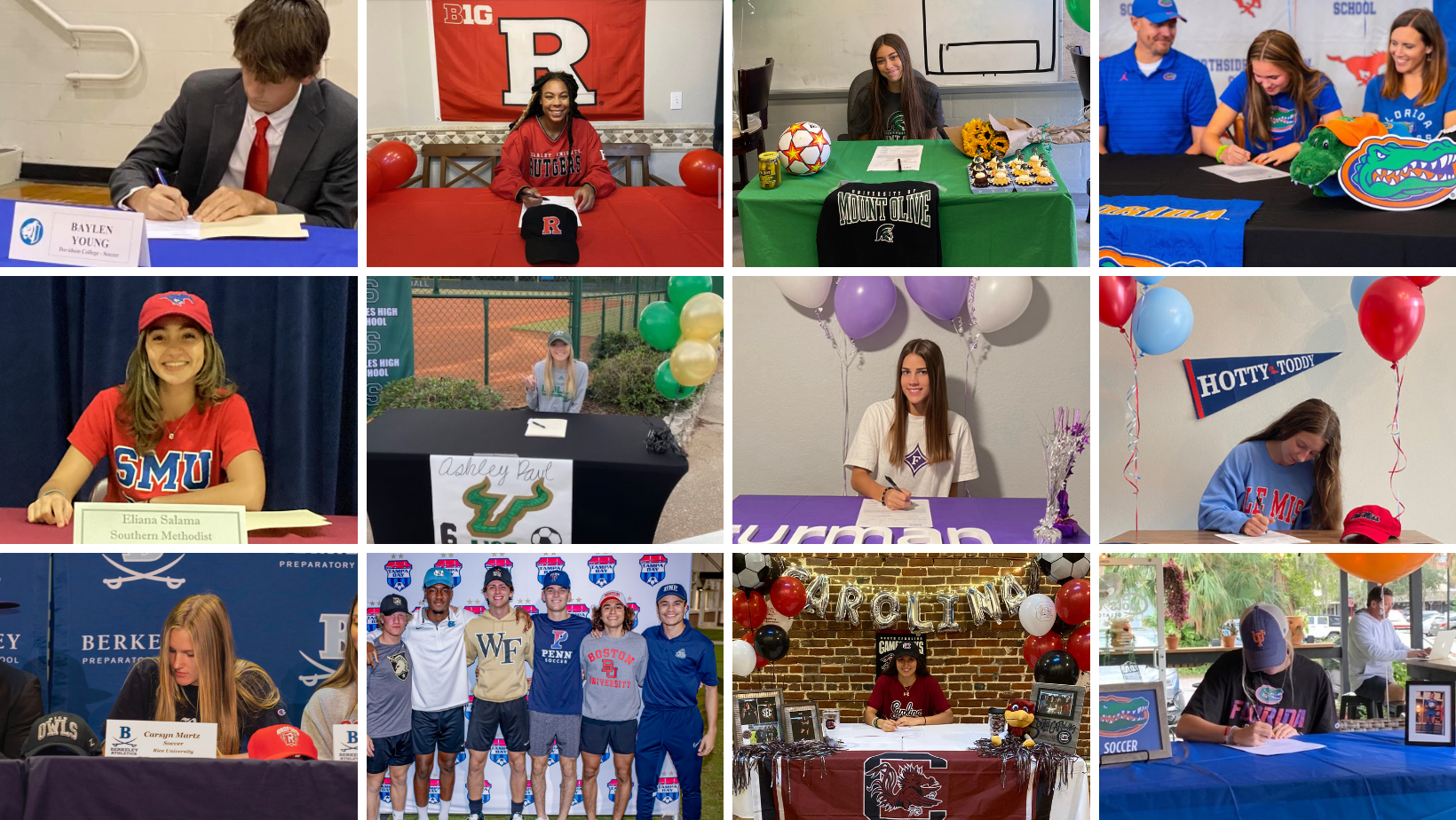 Fall 2021 College Signing Day
November 10th was the early signing day throughout the country and a big day for high school athletes at TBU. We had a total of 17 athletes sign letters of intent to continue their academic and athletic careers with universities across the country.
Here is a list of TBU athletes and the schools they signed:
Christina Tsaousis -University of South Carolina
Camryn Bliss- University of Mississippi
Naila Schoefberger- Rutgers University
Carsyn Martz- Rice University
Anna Gore- Furman University
Ashley Paul- University of South Florida
Ashley Tutas-University of Florida
Erica Roberts- University of Florida
Eliana Salama- Southern Methodist University
Gabby Marshall- University of Mount Olive
Hayden Morgan- University of North Carolina (Chapel Hill)
Devin Armstrong- Wake Forest University
Riley Cullum- United States Military Academy (West Point)
Erick Sakalosky- University of Pennsylvania
Santiago Hernandez- Boston University
Michael Carrero- University of North Florida
Baylen Young- Davidson University
In the last ten years, our club had 336 NCAA college commitments, averaging almost 34 commitments per year. Each year for the past ten years, our club has led the region with the most commitments.
These numbers continue to grow due to the dedication of TBU's senior staff and coaches. Our senior staff and coaches are constantly advocating for their high-school-aged athletes, using their wide network of college coach contacts and recruiters to find the right soccer program for their athletes. High school age teams compete in annual showcases and are seen by coaches and recruiters from all over the country as they demonstrate their talent and abilities.
As a club, we also invest in SportsRecruit, a coach's recruiting tool that allows athletes to create profiles and connect to college recruiters directly. This is offered at no cost to the TBU athlete and families and includes education by our staff on how to maximize their profiles to reach college programs.
The spring National Signing Day is February 2, 2022, and TBU anticipates being able to celebrate more athletes signing to continue their careers. We are excited to see the opportunities that are open to our TBU athletes as they reach for their collegiate dreams.